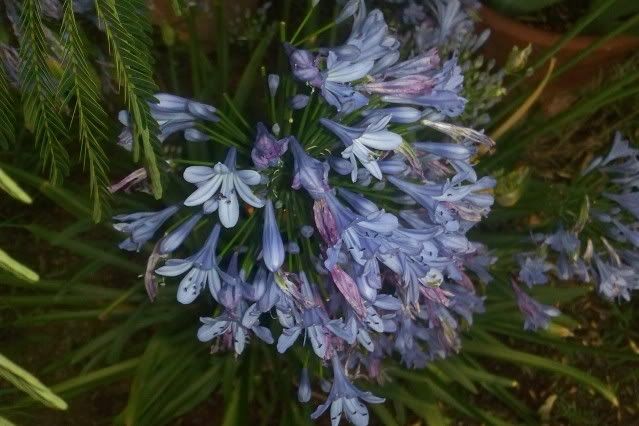 I bought one of these at Lowe's for $30, a pot-bound bunch. "Peter Pan Lily of the Nile," it said. It took the whole passenger side of the car—pot in the floor, and flowers everywhere. I took it out and looked at it and loved it. I planted it and loved it more.
I went back to the store to get more. There were three. I bought two of them, but they wouldn't fit in the car so I pushed the cart home (three blocks).
Here's a photo of the cart full of flowers!
Here's the first one I got, though, in the front yard:
When I was in Surrey, in the U.K., at Julie Daniel's house, they had one in their back yard. There were more near the Thames, near the Spelthorne library and museum.
I have gathered seeds, to see if I can start any that way, and I suppose they will divide under the ground where they are, if they survive the winter.
They're not naturally local, but if mine do well and I share with friends, someday they'll be "natural" in a way.